Are you Planning your holiday in Rajasthan but confused about what to do? These Udaipur Taxi Services help you find your best trip ever!
Here listed Most Popular places in Rajasthan you must visit
1. Jaisalmer – Famously known as the Golden City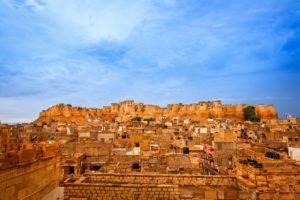 In the heart of Thar Desert, Jaisalmer is known as the Golden City for its beautiful sun-soaked sand dunes, exuberant forts, and rich culture and traditions. Known for its forts, palaces and temples, the city is has got its name from Maharaja Jaisal Singh. Interestingly, an aerial view of the city is like an image of a prince sitting on the ridge of sand dunes, crowned by the Jaisalmer fort.
Looking at attractions, Jaisalmer has got some of the most important places to visit in Rajasthan including a couple of museums and heritage temples. The city also hosts the annual Desert Festival in January-February and attracts travelers from across the globe to witness the magic of Rajasthani art forms.
2. Jaipur – The Pink City
So the pink city and the capital of Rajasthan is largest in the state. Founded by Maharaja Sawai Jai Singh in 1727, Jaipur is one of the most popular places to see in Rajasthan and even in India, for that matter. Long list of historic and heritage monuments, swift connectivity from major cities and an amazing city plan where all the streets of the city run from east to west – Jaipur is a marvel to be at.
3. Jodhpur – The Blue City
Well, Jodhpur is just an extension of the royalty that you get to see at Jaisalmer and Jaipur. The royal city was the centre of power of the then Mewar state, and has got several forts, palaces, and temples to enchant travelers from different corners of the world. Famous as the Sun City because of its sunny weather, Jodhpur is also known as Blue City for the blue houses near the Mehrangarh fort. The blue houses have played muse to the acclaimed photographer Steve McCurry. Click here to see his mind-blowing shots of Jodhpur city.
4. Udaipur – The City of Lakes
Udaipur used to be the capital of the kingdom of Mewar. Known as the City of Lakes, it is a beautiful place to visit in Rajasthan. With a number of tourist attractions like Lake Palace, City Palace, Jagdish temple and many more, Udaipur is also known as the Venice of East. The city has beautiful winters and it is largely visited during this period for its colorful history, mesmerising landscapes, and rich traditions.
If you are looking for Best Taxi Services in Udaipur then Udaipur Taxi Services is the best Taxi Service provider in Udaipur, Rajasthan.
Taxi Service in Udaipur is the fastest growing car rental company in Udaipur, Rajasthan, and is committed to providing all its customers with a maximum of comfort and satisfaction through its services. Car Rental Services in Udaipur is the leading car hire in the area and aims to consistently deliver a fast, flexible, personalized and high quality service at a very affordable price. Taxi Services in Udaipur prides itself on its well-maintained vehicles that cater to every need and requirement of its clients, and continues to invest in the latest automobile technology in order to provide an up to date and best of class service.
Most Udaipur's Best places for Sightseeing you must visit with Us
for more detail about us call 8890965106 visit us https://udaipurtaxiservice.com/