Jaipur is Rajasthan's biggest city and its capital. It is known (somewhat incorrectly) as the Pink City due to the distinct color of its buildings. The 'pink' of the Pink City is Gerua (or ochre) in which the city was coated during the visit of the Prince of Wales in 1905-06. Jaipur is known as much for its fascinating monuments and colorful markets as it is for its gorgeous handloom garments and wonderfully laid-out gardens. It is really not very difficult to fall in love with Jaipur the moment you land here. Along with Delhi and Agra, Jaipur forms the Golden Triangle of Indian tourism. Not only does it attract domestic travelers, Jaipur is often an important stopover for foreign tourists. Jaipur also serves as a stepping stone for those who want to travel to the interiors of Rajasthan.
Sightseeing in Jaipur
Hawa Mahal
Built by Sawai Pratap Singh in 1799, Hawa Mahal or the Palace of Winds is the most iconic landmark or Jaipur. Indeed, Hawa Mahal symbolizes Jaipur in a way that Gateway of India symbolizes Mumbai and Shaniwar Wada symbolizes Pune. Built as a high screen for the women of the royal household, Hawa Mahal is made from red and pink sandstone and stands right at the edge of the City Palace and extends to the women's chambers or zenana.
Hawa Mahal has been designed to look like the crown of Krishna and stands tall at five stories, its façade resembling a honeycomb. With 953 intricately latticework jharokhas or small windows, Hawa Mahal served as a perfect cover for the Rajput women to watch the everyday goings-on and the special processions on the streets below. Jhunjhunu's Khetri Mahal served as the inspiration for this spectacular structure after Pratap Singh was intimidated and inspired by it. In the centuries that followed, it was Hawa Mahal that shot into prominence and became the icon of a city that attracted people from all over the world.
City Palace
Right next to Hawa Mahal is Jaipur's City Palace that predates the latticework masterpiece by a few decades. Construction on the City Palace was completed in 1732 and it served as the seat of power for the Maharaja of Jaipur. Even to this day, a part of the City Palace is out of bounds for general public because it continues to serve as home to the erstwhile royal family of Jaipur. The city Palace complex is home to Chandra Mahal and Mubarak Mahal and its various iconic gates — Udai Pol, Tripolia Gate and Virendra Pol among others — blend the Rajput style of architecture with that of Mughals and European, the two powers that the Kucchwaha Rajputs allied themselves with during their time in power.
Jaipur's City Palace was commissioned by Jai Singh II who moved the capital down from Amber Fort to the plains since there wasn't enough water for his burgeoning population. The city of Jaipur was planned in six blocks that were separated by broad avenues. Jai Singh II ruled over his people from the City Palace even as he oversaw the construction of Jantar Mantar, which was completed two years after the City Palace.
 Jantar Mantar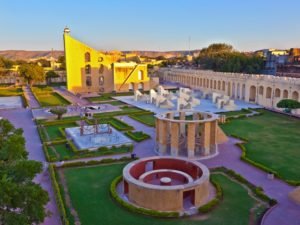 Jantar Mantar of Jaipur is one of the five observatories constructed by Jai Singh II. Ujjain, Delhi and Varanasi are the other cities that house the remaining Jantar Mantars but there remain no traces of the one at Mathura. Among the many instruments that are part of this observatory is the world's biggest sundial. Jantar Mantar is located just a stone's throw from City Palace and Hawa Mahal and features instruments made of stone and brass that were built using instrument design principles from ancient texts. In all there are 19 instruments that help observe astronomical positions with the naked eye. Jantar Mantar is a fine example of Ptolemaic positional astronomy and has instruments that operate in each of the three main classical celestial coordinate systems: the ecliptic system, the horizon-zenith local system and the equatorial system. When it suffered some damage in the 19th century, Major Arthur Garrett, an amateur astronomer who was posted as the Assistant State Engineer in Jaipur, undertook the first major restoration work on Jantar Mantar. As of 2010, Jantar Mantar has been included in the list of UNESCO World Heritage sites and remains a gem of Jaipur that cannot be missed.
If you searching best Taxi Service in Jaipur at best price, so look no further than Udaipur Taxi. We provide cheapest taxi booking services Udaipur to customers for their flexibility, reliability, timely execution, proper planning, convenience, safety and security.
Services offered by us are highly cherished by the customers for their flexibility, reliability, timely execution, proper planning, convenience, safety and security. Our range of Cars includes Tata Indica, TATA Indigo, Tavera, Toyota Innova, Honda City, Toyota Corolla, Camry, Mercedes, Honda Accord, Luxury Coaches etc.
Udaipur Taxi Service is the Best Taxi Service in Udaipur for affordable price. We are also known as Best Travel Agency in Udaipur. We also provide best Car Rental & Cabs in Udaipur. For more detail about us Just Call now: +91 8890965106 or visit https://udaipurtaxiservice.com/. You can send Email on info@udaipurtaxiservice.com.